Frank Krevetski turned 78 in August. He also celebrated 51 years of marriage to wife Patricia that day. But there's another reason for him to be happy: He's alive. After a serious health scare, the former high school football coach is once again going strong, mowing his lawn and exercising as before he had a heart attack.
Thanks to Dr. Rajeev Pillai and the Indiana Regional Medical Center, he had surgery to install stents to improve his heart's blood flow. He's no longer easily winded and again helps with his son's business.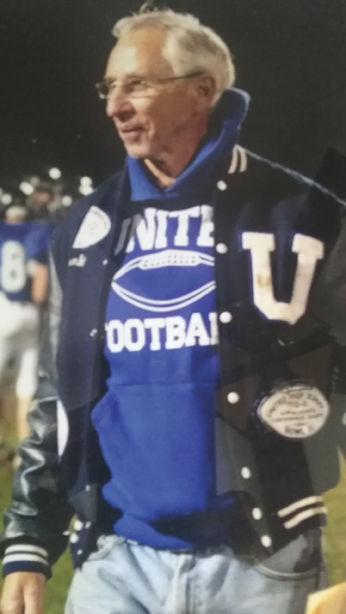 "I go down in the morning and get the place ready to open up, and do little things here and there," Krevetski says.
Krevetski, who is retired from a long career coaching football, is a fitness advocate. That's why the heart attack was such a surprise.
He coached former New York Giant quarterback Jeff Hostetler and his three brothers at Conemaugh Township High, 29 seasons at United High in Indiana County, and another seven seasons at Bishop McCort, where former Pittsburgh Steelers and Hall of Fame linebacker Jack Ham played. He stayed in shape to keep up with those players.
"I really don't know how it came about," he says. "I'm not overweight. I don't drink or smoke. I work out two to four days a week in the gym in addition to hours I spend edging and mowing my lawn."
His body gave warnings. He heeded.
"I had no idea or clue except for seven to eight weeks prior to my heart attack, I noticed a slowdown," he says. "I'd start strong and finish weak. I figured it was age or something going wrong somewhere. I never figured it was my heart.
"Then, bango, around 12:30 or 12:45 a.m. one night, an odd feeling came over me, my chest and neck to my teeth and head and halfway across my arms. It was very intense, but it didn't last long. After it was over, I felt pretty good. I slept the night, got up, was fearful, but never associated it with a heart attack."
Two nights later, the same thing happened. Again he fell asleep and woke up feeling good. This time, he decided not to ignore it and went to the emergency room at IRMC.
Testing at IRMC determined he had had a heart attack. He went from the emergency room to intensive care and soon had a date for surgery.
"I had heard good things about IRMC, so I went there," Krevetski says. "After a couple days in the hospital, I had the surgery, and went home the next day."
Krevetski had no limitations or restrictions afterward.
"I took the rest of that week off, but the following week, I resumed normal activities," he says. "I have a lot of yard and I still make it a point to push mow the grass to get my walking in. I went through that like I was 38 years old. I huffed and puffed a bit, but not like seven or eight weeks earlier.
"I thank my lucky stars that I go to the weight room and I still work out. I think that may have helped me. I sort of feel that if I had been in poorer condition, the first attack may have been it."
Krevetski is grateful for the support from his wife, their children and extended family. And he is thankful he chose IRMC.
"I received excellent care and compassion," he says. "They have a good work ethic and it's a friendly atmosphere. Many kudos to IRMC. The county is very fortunate to have a place like this."