Marcus Whitman School District invites and urges any and all staff to partake in the numerous wellness events scheduled year-round.
As part of the school district's wellness policy, students and staff have the opportunity to engage in, "developing, implementing, monitoring, and reviewing district-wide nutrition and physical activity policies." Although the well-being of the students comes first and foremost, making time for teachers and staff to catch a break and engage in social wellness events is just as important. And Marcus Whitman is not short on opportunities.
Jill MacKerchar is a health and physical education teacher at Marcus Whitman and she's been a part of the Wellness Committee for five years now. MacKerchar says some of the staff activities have been big hits in the past.
One of the most recent successes was the staff painting party, where participants stenciled designs onto wooden blocks and socialized. MacKerchar was impressed by the turnout for the event, especially being held on a school night. Other popular events included the staff bowling party and free admission to Rochester Americans hockey games.
While these specific events are not wellness focused, they still contribute to the overall well-being of the staff who take advantage of these activities. MacKerchar insists that setting up events like this give staff some much needed R & R.
"I think it gets them to understand some things they can do to either de-stress, or get their mind off of things, socialize, have fun and try new things," MacKerchar says.
Marcus Whitman is resolute to promote well-being and activity for its students and staff, and the options available to them make it an easy task.
---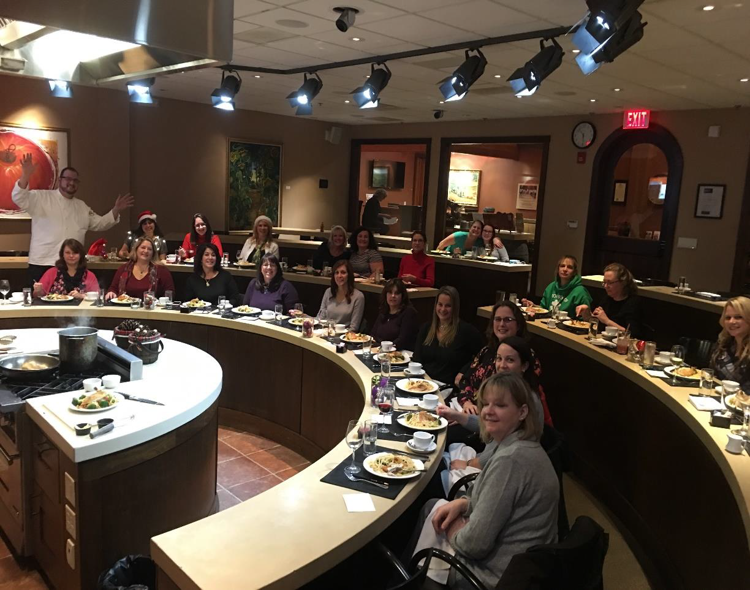 Wayne Central
Last fall, Wayne Central School District treated staff to an insightful, delicious and healthy cooking demonstration at the New York Wine & Culinary Center in Canandaigua.
The NYWCC uses locally grown ingredients to exemplify New York agriculture and to ensure the meals prepared are as fresh as possible. The head chef walks participants through the meal's creative process, teaching them techniques along the way. Once the demo ends, dishes are brought out for participants to enjoy the final result.
This is the second year that Wayne staff have participated in cooking demonstrations at the NYWCC. The most recent demo featured a healthy dessert option, chocolate chia seed pudding. Monica Bays, health and wellness coordinator at Wayne, was pleased to recommend the demonstrations to just about anyone.
"A lot of people like cooking, and if you don't like cooking, a lot of people at least like eating," Bays says. "It's just one of those events that a lot of people are
interested in doing."
Bays personally appreciated learning new knife skills at last year's event, but both years have been great resources for healthy meal alternatives. Aside from wellness and educational benefits, the event gives Wayne staff members a chance to relax and enjoy a meal with their colleagues.
While the event is open to all staff, Bays says the popularity of the event means spots fill up extremely fast, as the Health and Wellness Committee can only reserve up to around 25 spots. Bays hopes that the high participation and intrigue means that Wayne will be going back to the NYWCC every year, so make sure to reserve your seat at the table before next year's cooking demonstration fills up.