Your favorite golden corn on the cob or plump, red strawberries might be in shorter supply now that winter's on its way. But you don't have to let the blanket of white snow take the color out of your food palette. The next time you're cruising down the produce aisle, just remember the rainbow.
"What happens when you walk into the grocery store?" says Dr. Neal Barnard, president of the Physicians Committee for Responsible Medicine in Washington, D.C. "Your eyes dart to the blueberries, oranges, red peppers, yellow zucchini. Following this nutrition rainbow actually does lead to a pot of gold: good health."
Colorful vegetables contain protective compounds called antioxidants and phytochemicals that boost your immune system, Barnard says. They can reduce the risk of obesity, diabetes, heart disease and even certain cancers. These foods are also packed with fiber, which helps regulate cholesterol levels, lowers blood pressure and helps us feel full. And they might have a leg up on the rest of the veggie family for getting kids to eat their recommended half-plate serving.
Pile on your plate
Vegetables such as bell peppers, heirloom tomatoes, beets and onions "can really rev up your health," Barnard says. "Red, yellow and orange peppers are all great sources of vitamin C."
Red peppers are also loaded with lycopene, which also provides color to tomatoes and watermelon and is associated with a lower risk of prostate cancer. Beets may protect blood vessels from artery-clogging plaque, Barnard says.
Orange veggies such as carrots and yams provide beta-carotene to support the immune system, while yellow fruits such as lemons and peaches inhibit tumor cell growth and have plenty of vitamin C and flavonoids.
Flavonoids may counteract some cancers and diseases, says Liz Smith, a registered dietitian and assistant professor at Middle Tennessee State University. "Eating foods rich in flavonoids may help to detoxify cancer-causing chemicals before they can do damage to the body," Smith says.
Green spinach and kale can help build healthy cells; and grapes, berries and plums can destroy free radicals, which are thought to increase the chance of certain cancers, Smith says.
"There's no harm in piling your plate high with colorful, plant-based foods," Barnard says.
Let kids take the lead
Getting kids to eat their veggies is not always an easy feat. But keeping in theme with the rainbow, Smith says a fun way to encourage more veggies and a variety of colors is "to have children use each color of the rainbow by picking out a veggie of that color and placing a piece of each colored veggie on a plate in the shape of a rainbow."
"Children who assist in shopping, preparing and planning what is offered and eaten tend to want to try and consume more of a variety of food, including vegetables," she says.
Registered dietitian Vanessa Carr, clinical nutrition manager at Kate Farms in Santa Barbara, California, says it's also smart to let kids pick out interesting-smelling or interesting-looking vegetables at the market. And, she says, the more colors, the better.
"The best thing you can do is make sure your plate and your day of food is as colorful as possible," Carr says. "That way, you are getting benefits from all types of phytonutrients, vitamins, minerals and fiber."
---
Purple Cauliflower Rice
Colorful cauliflower is gaining popularity, and with the popularity comes availability. Whether you are looking to eat healthy or just change up your nightly dinner, cauliflower rice is a great way to change out a starch side for a lighter and more vitamin-rich side dish.
Makes about 4 servings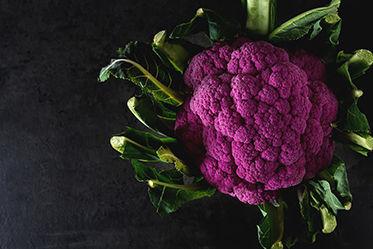 1 head purple cauliflower (cut into rice size pieces using a grater or food processor)
1 tablespoon olive oil
2 teaspoons garlic powder
2 teaspoons salt
1 teaspoon black pepper
Over medium heat, sauté olive oil and cauliflower. Cook, stirring very frequently for about 3 minutes. Reduce heat to low, cover and cook for another 3 minutes. Remove lid, season with garlic powder, salt and pepper.
Pasta with rainbow chard, spicy sausage & lemon mint ricotta
Rainbow Swiss chard is packed with vitamins K, A and C, as well as fiber, iron and potassium. And if spicy isn't your thing, feel free to sub out the spicy Italian sausage for other fresh-ground sausage.
Makes about 5 servings
1/2 pound ground spicy Italian sausage
1 pound dry penne pasta (or your favorite noodle)
1/2 pound lemon mint ricotta (recipe follows)
2 tablespoons olive oil
1 tablespoon salt
2 teaspoons ground black pepper
1 tablespoon garlic, minced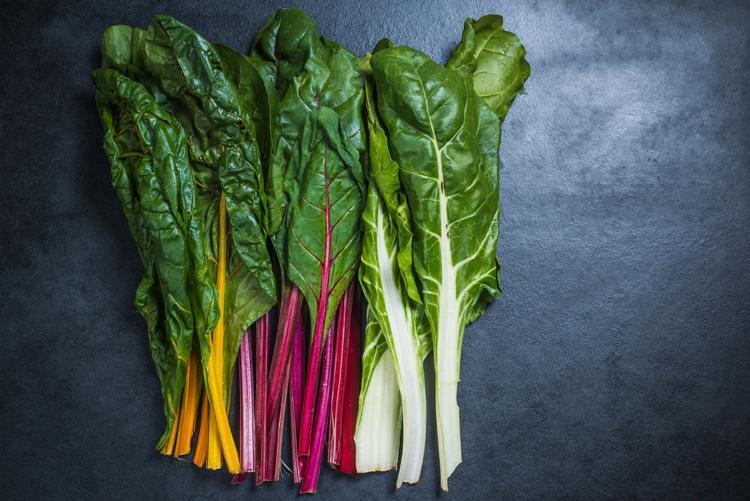 Roughly chop chard leaves; chop the stems into small pieces. Keep separate (the stems must cook than the leaves). In a large stock pot, boil water and cook pasta according to package instructions. Drain, rinse and set aside. In a large sauté pan over medium heat, add olive oil and Italian sausage. Cook until sausage is browned and fully cooked, breaking larger pieces when necessary. Add garlic and chard stem pieces. Cook over medium heat, stirring frequently, until stems are softened. Add in cooked pasta and chard leaves, stirring until leaves are wilted. Season with salt and pepper and drizzle lemon mint ricotta.
Lemon Mint Ricotta
1 cup ricotta cheese
2 tablespoons chopped fresh mint
Lemon zest and juice of 1 medium lemon
1 teaspoon salt
1 teaspoon ground black pepper
In a small mixing bowl, combine all ingredients. Let chill 1-2 hours (or overnight) before serving.
Roasted red pepper and gouda soup
Red peppers are loaded with vitamins A, C and B6 to boost your immune system. And this velvety smooth, slightly smoky soup is sure to awaken your taste buds.
Makes about 4 servings
1 32oz jar roasted red peppers, drained
1 medium yellow onion, medium diced
2 cloves garlic, minced
2 teaspoons ground cumin
1 tablespoon smoked paprika
4 cups vegetable stock
1/2 cup heavy cream
1 cup smoked Gouda, shredded
3 teaspoons salt
1 teaspoon ground black pepper
1 tablespoon olive oil
In a large stockpot over medium heat add olive oil, onions and garlic. Cook, stirring frequently for about 6 minutes, or until onions are translucent. Add in peppers, stock and spices. Bring to a boil then reduce heat to low. Cook for about 20 minutes. Add in heavy cream. Bring back to a simmer, then carefully transfer to a blender and blend until smooth. Transfer back to pot, and whisk in the Gouda, a little at a time.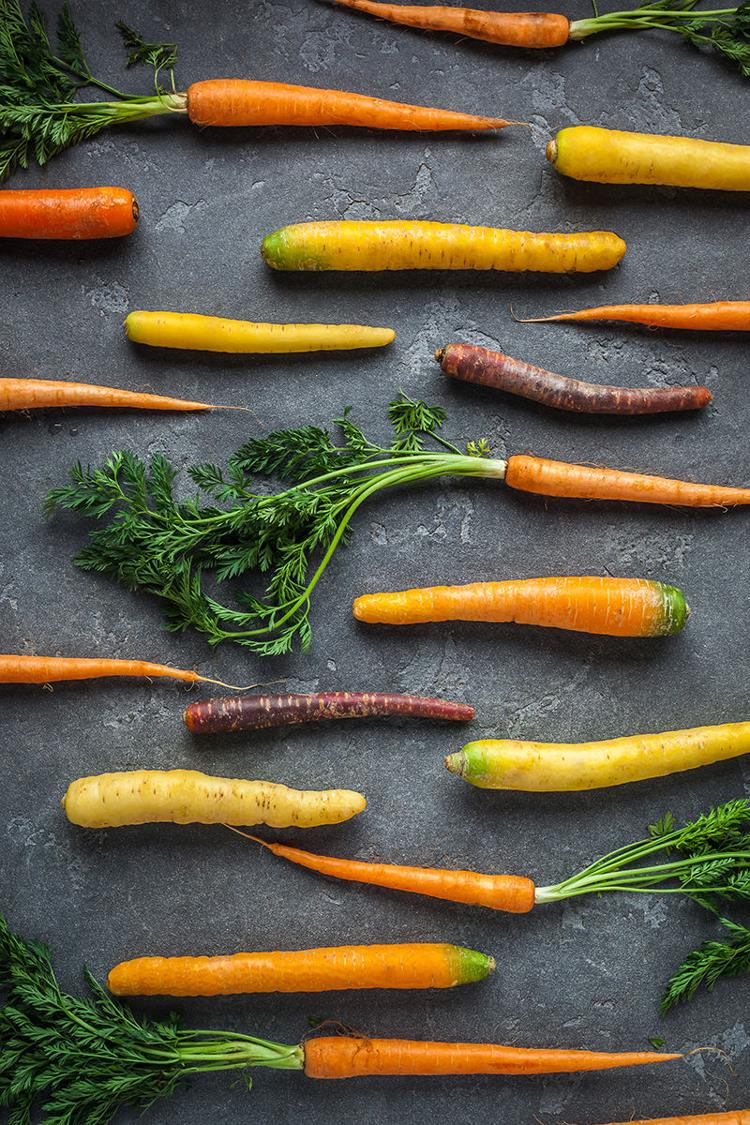 Maple bourbon baby carrots
Rainbow carrots are bursting with vitamins and vibrant flavor, and this maple bourbon glaze only amps it up. You can pick up a bag of short cut rainbow baby carrots at your favorite grocery store, or find colorful baby carrots with the tops still on at your local specialty store.
Makes about 4 servings
2 pounds rainbow baby carrots
3 teaspoons olive oil
2 teaspoons salt
1 teaspoon black pepper
2 tablespoons butter
1/2 cup bourbon whiskey
1/2 cup maple syrup
1 tablespoon fresh mint, chopped, for garnish
Preheat oven to 425*. In a medium sized mixing bowl, combine carrots with olive oil, salt and pepper; toss to coat. Place on a sprayed baking pan and bake for 15 minutes; remove from oven and turn carrots so that they brown evenly; bake for another 10 minutes, or until carrots are soft and tender.
While carrots are cooking, in a medium saucepan add the butter, bourbon and maple syrup and bring to a boil. Reduce heat to a strong simmer; reduce mixture by a quarter, or until thickened.
When carrots finish cooking, toss with maple bourbon glaze in medium-sized mixing bowl. Serve garnished with a bit of freshly chopped mint.