DuBois YMCA pool closed for renovations; will reopen Aug. 20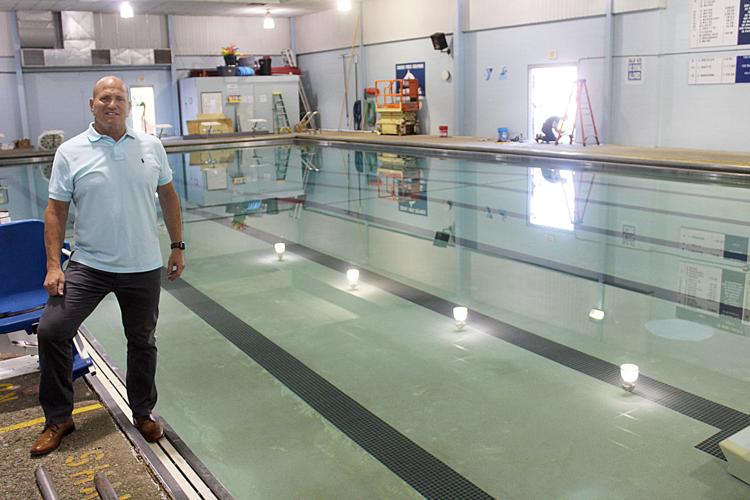 DuBOIS — The bad news is that the pool at the DuBois YMCA is closed. The good news is that it will be worth the wait, according to President/CEO Dan Dowling.
Renovation of the pool bottom and pool deck — phase three of a four-year renovation project — is under way and will reopen Aug. 20.
In addition, the old hot tub has been ripped out and a new one will replace it.
"It'll be in the ground, much more accessible. We're gonna cut that concrete out, dig it out, and put it in the ground," Dowling said. "It will be larger, holding 500 gallons more water than the previous hot tub. It will have a handicapped lift so that people can get in it. It will be more efficient and more effective, especially for our older clientele and anyone who has a disability."
The pool will be relined with Marcite, which is a very common soft plaster finish used on in-ground pools.
"And then we will redo the tile that is on there," Dowling said. "And we're going to change the deck, we're going to put a new decking on it. It's really rough."
A urethane product will be put down on the deck.
"They're going to sand it down. It's a pretty long process. They'll sand this old stuff down in preparation and then they'll put it on in layers. It will be a smooth surface when it's done. It will have some kind of aggregate to it so people don't slip and fall. But it will be a urethane product," Dowling said.
The pool was originally built in 1979. In 1996, the pool bottom was re-done with some basic renovations and new lighting was installed at that time.
"So it's due, the pool deck and everything has not been done for many years," Dowling said.
Contractors also painted the walls in the pool area in preparation to do the pool floor.
"They did some cleaning around the pool edges. They ripped out the hot tub deck and new door frames are being put in," Dowling said.
Hardware Specialities, a local company, is doing that work while William L. Watson is the pool contractor.
"We're doing a lot of internal repairs, too, to valves and interior plumbing. It's a commercial pool that has large valves and things that haven't been changed for a number of years that we're taking the time to replace motors. The new hot tub will have all new internal parts, heater, filter because it's bigger and it's more powerful," Dowling said. "We're also changing a lot of the pool motors and things. It's just part of the process people don't see on the inside that's part of that expense that makes the pool run in an effective manner."
The estimated cost of the pool area renovations is approximately $200,000. The capital campaign raised approximately $956,000.
While the pool is being re-done, the DuBois City pool located in city park will be available for members for open swim, Monday through Friday, 9:30-11 a.m., at no extra charge. Members are just asked to verbally indicate their Y membership when entering the city park.
Dowling expressed appreciation to the City of DuBois for allowing members to use the pool in the morning.
"There are still a lot of members that enjoy the pool and getting their exercise," he said. "It's been greatly appreciated. And we've made arrangements with some other places for people to go, but that's at a fee."
The previous two years, renovations included new rooftop units for the pool, remodeling of the hallway and the locker rooms, new saunas and steam rooms and remodeling of the entire gymnasium.
"So every summer we've done a different project as the money from the Capital Campaign came in," Dowling said.
Next year, the YMCA plans to update some of the childcare facilities, the lobby and Fitness Center.
"Everything keeps getting older. And it's been great getting the community active. We raised over a million dollars for this project. And as the money comes in we're doing projects. It worked out real well, we didn't have to extend ourselves with another loan. And just can only do so much at one time," Dowling said.
The new pool area will be called The Frank Varischetti Aquatic Center.
"A large portion of our donations came through Varischetti's foundation, for the pool," said Dowling.
The DuBois YMCA, which has been in DuBois since 1894, is a nonprofit, 501(c)3 operation.
"No one is denied access, you might say, based on financial need," Dowling said. "We give out valued over $100,000 in memberships annually. People, based on their financial needs qualify for that. A lot of our programs are operated for the community. Everything's made to be accessible. Our price is made to be accessible to the community. So we are a nonprofit operation."
Prior to its current location on Parkway Drive, the DuBois YMCA was in multiple locations. The most recent one was on Scribner Avenue.
"That's what most people remember, people tell me about where they participated," said Dowling, who has been the executive director since 1990. "Some of our older members will tell me how they went to the Y on Scribner. I think that was there until 1936 until that closed in the late '70s and they built this building. This one officially opened in 1981, but it was under construction from the late '70s through the 1980s."
Anyone wishing to make a donation can contact Dowling by email at dtdowling@comcast.net.