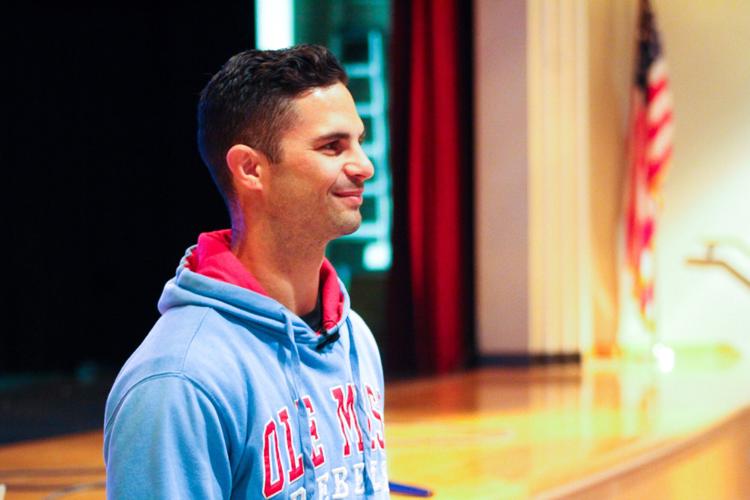 DuBOIS — The chances of Richie Contartesi, who stood just 5 feet 7 inches tall and weighed 150 pounds, reaching his goal of earning a full Division 1 football scholarship at the University of Mississippi (Ole Miss) were slim.
"But there was a small part of me that said, 'It's possible,'" Contartesi said while giving motivational advice to students at the DuBois Area Middle School Friday. He achieved his first major goal, earning a full D1 football scholarship at Ole Miss in 2009.
Contartesi went on to become a starter at Ole Miss, played Arena football professionally, wrote a No. 1 bestseller, built a successful speaking and training business, a real estate investment company and opened the only 24/7 functional fitness facility in Las Vegas.
During the assembly, Contartesi shared his struggles with stress, anxiety and depression, recalling his parents' divorce that resulted in his failing the fifth grade. He went on the internet and looked up the academic requirements to play college football, his childhood dream. That night he had no idea what he was doing but when he printed out those requirements, he had a goal written down, a vision, a plan to succeed, and his life changed forever, he told the students.
"After I wrote out my goal, I started to think differently, I started to talk differently. Things around me started to happen differently," said Contartesi. "And every single day before I went to school, I just looked at that sheet of paper, and I went to school with a purpose, with a passion, with excitement. I learned how to study. I learned how to build relationships with my teachers. I learned the game of school."
Contartesi said only 3 percent of Americans write down their goals.
"And these are the same 3 percent who wake up every day excited. Wake up every day with a mission. Wake up every day with a purpose," he said. "If you learn anything from me today, if you write down your goal, you at least put yourself in the position to be in the top 3 percent. It's the start."
Contartesi said if people write down their goals, there's a 42 percent greater chance of achieving that goal.
"That doesn't mean writing down your goal and doing nothing," he said. "There's action and there's results."
It's not realistic, however, to think people can achieve every single goal they have, he said.
"But here's truly what it looks like. You have something you want to achieve, you write it down, you have a vision, and you take relentless action after that goal over and over and over again, and you end up somewhere close to it. That's reality," Contartesi said.
Contartesi outlined a four-step strategy of turning stressing into success, including building relationships, overcoming fear, building more confidence and getting more educated.
To learn more about Contartesi, visit www.richiecontartesi.com.