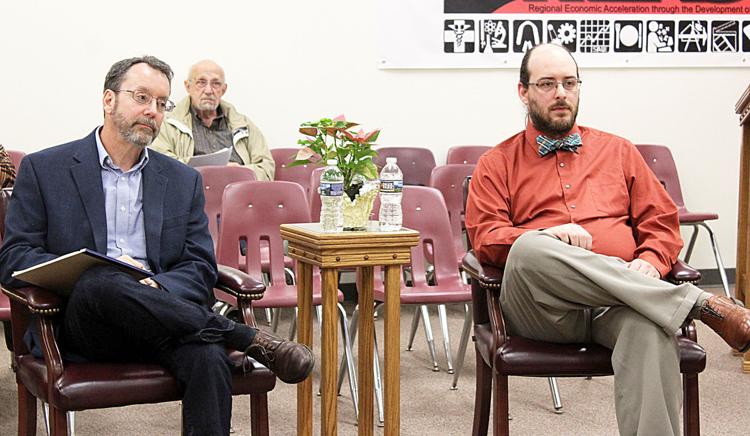 DuBOIS — Members of the DuBois Area School Board are expected to make their recommendation on who will fill a vacant Region A seat at Thursday's special board meeting.
The seat, which represents the City of DuBois, is vacant after the Nov. 15 resignation of longtime director Scott Farrell, who resigned due to a change in residency.
Interested candidates submitted a letter of interest indicating their address and a resume to the district by noon Dec. 1. Two city residents submitted applications – Lee A. Mitchell and Pat Reasinger. Mitchell, who recently served the last four years on the board, did not run for re-election in the primary election in the spring. However, he received write-in votes in the November election but was defeated by write-in candidate and current Director David Schwab.
Last week, a special board meeting was held immediately following the reorganization meeting for the purpose of interviewing candidates for the vacant seat. A recommendation by the board is expected to be voted on at 6 p.m. Thursday at the Administrative Center on Liberty Boulevard, DuBois.
"I would like to welcome both candidates for submitting their applications of interest in serving as a member of the DuBois Area School District's board of directors," said board President Patty Fish.
Board members asked prepared questions to both the candidates and Fish, as president, asked the first and last question. In order to assure fairness, the board rotated per question so one question started off with one of the applicants and the next question started off with the other candidate.
"The intent of tonight's interview is to highlight the strength of each candidate," Fish said. "The purpose is not to engage in debate. Please base your response to each question according to your background and experience as well as your goals if you were to become a member of the DuBois Area School District board of directors."
Director Ben Haugh asked if the board will be able to have discussion publicly or during a session privately.
Solicitor Carl Beard said the board is not permitted to have any executive sessions relative to candidate qualifications.
What experience do you have with complicated budgets? When the board is given a 400-page budget for the district, what would be your process to determine if it is a good budget for the system?
Reasinger: "I've dealt with smaller budgets that the school district, with church and with work. Something like that, I would really hope there is somebody that would guide me through that. I'm assuming that there are experts that can help us and I can ask questions. It would be new to me. I'm sure there are accountants here."
Mitchell: "As part of my day-to-day job, I actually am a department head for a company that deals with technology and, as part of that, I regularly have to do forecasts of not just technical resources budgeting but also the financial budgeting for my department. Outside vendors, staffing, the cost of services rely on. So dealing with budgeting forecast modeling is something that I'm just used to doing."
"As far as the school specific side of things. Most certainly, I've been on the board for four years and I've seen how the budgetary process works. Importantly, most of it is fixed by the state and of that quarter based budget, only a small portion would have any impact on. What I would do is pretty much what we have done in the past, rely on the experts, the superintendent, business manager and any other experts within the district to advert their knowledge to come up with where we should reallocate resources."
What do you see as an opportunity or challenges in this district?
Mitchell: "The opportunities are to continue to improve our education. We already rank fairly high on the number of metrics but we can continue to expand on that. That's why this is in existence, that's what we should focus on. The opportunity is improved and we have the opportunity to improve that and part of that again, dealing with the facilities issue and that's an opportunity to create a new educational environment. One of the challenges is figuring out how to pay for it."
Reasinger: "Of course there is always opportunities to be more efficient. I would say probably the biggest opportunity is with the teachers is to make sure that they have the necessary resources to do their best with the kids. Some of the challenges, it's hard because you're dealing with parents, you're dealing with the state, federal laws and things like that. Just to work through all of that would be one of the challenges, I think."
If a parent or principal comes to you regarding, for example an issue at a particular building or a situation revolving a particular teacher, how do you see your role as a school board member in resolving that issue?
Mitchell: "I think that sometimes parents of the district who don't have any connection to employees here, they may be a bit intimidated as far as contacting a principal or with a teacher that there's an issue with or a superintendent. Either because, just in general there's an intimidation factor, there just is. You might not experience it unless you've been in those situations but there is. And having the board members there come they can reach out to, to the benefit, because on one hand they're actually an elected representative of the people and so they can be a liaison and reduce some of that anxiety that there may be with regards to bringing issues to the district."
Reasinger: "No, I would listen to that person whether it's whoever it was. Obviously, I would not be qualified to answer following most of those questions so I would find out what staff would best be able to work with that and either go in and talk to that person with that person or direct them toward someone that can help them. I think communicating, you just listen."
Each applicant was given the opportunity to make last statements.
Mitchell: "Well I served on the board for four years and whenever it came time to do the petition signing I thought what I had done in the previous four years that was beneficial. I like these contributions to have positive impact, but I didn't see any kind of major items coming up that I would really want to weigh in on. Not until a couple months ago, whenever the idea of potentially doing massive renovations or new buildings came up. Those decisions are going to have a substantial impact on the educational environment over the next several decades. I mean, this isn't a decision that's just going to affect the students for the next couple of years. It's really going to be decades, it will be a generational impact here. And I wanted to have my input heard on this and so I found a way to actually run again. I decided to put my name in for this."
Reasinger: "I've always been pretty community minded. As you can see from my resume I was 17 years with the Boy Scouts, so I believe children, cliché, are the future. But they really are. There's nothing more important than an education. You guys gave me a good education, my kids, my wife. I guess I just want to help."