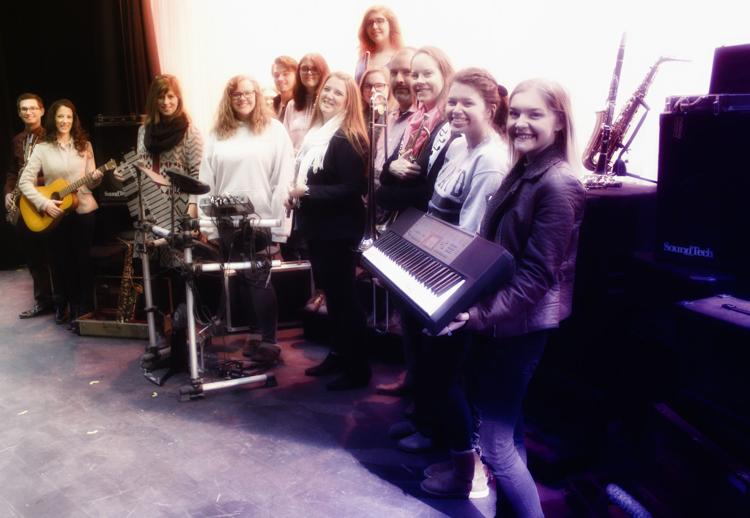 At first thought, just one instrument would have made the DuBois Area School District's donation drive worth all of the planning efforts, said Assistant Superintendent Wendy Benton.
In reality, the district received a donation of 17 instruments and a significant amount of sound equipment.
"Once again, the DuBois Area School District has been abundantly blessed by the heartfelt generosity of our community," said Benton.
In November, the district started a drive, asking that anyone wishing to donate simply drop off any instruments, lesson books or donations of unused reeds, valve oil, guitar picks or other music supplies to the front office of any DuBois Area school and promised that a district music teacher would get the donation into the hands of a young music student.
The demand for instruments was outweighing the district's current supply, so the school reached out to the community for help.
The first-ever drive continued through Dec. 21.
The sound equipment alone, which was donated by a "very generous gentleman from Punxsutawney that 'just wanted to help the kids,''' is valued between $6,000 and $7,000, she said.
His donation helped the music department more than he could have ever imagined, Benton said.
"The donated sound equipment is in better condition and is of better quality than the sound equipment we have been using," said Benton. "This donation also provided us with equipment that will substantially enhance our ability to perform outside of the auditorium."
Another noteworthy donation was a 73-year-old Glockenspiel.
The historical instrument was donated to C.G. Johnson Elementary School in honor of elementary music educator Julie Gutowski.
"This donor, a former member of the marching band, wanted Ms. Gutowski to have her Glockenspiel because of the profound impact she has had providing music education to her grandchildren," said Benton.
"One donor shared that the only reason she was provided with an opportunity to learn to play an instrument was because of a donated instrument when she was a child," said Benton. "She wanted to provide the same opportunity to a child in need."
"Reaching out to the community for donations of instruments is a way to help the community invest in the future of our younger generation's involvement in music," said music teacher Kristina Keith. "As more students in our district demonstrate an interest in instrumental music, there is a greater need for instruments. Our district expressed this need, and the community generously responded. We are grateful."
Becky Sensor of the middle school music department said it was wonderful to see how supportive the community has been.
"We are so fortunate to have so much support from our administration and our community," said Sensor.
"It was really cool to see new instruments coming into our school office and knowing that we were going to get to use them," said eighth-grade student Michael Angelo.
High school band Director Melinda Swauger said the study of instrumental music is a brain builder.
"Knowing that our students will develop from the process of powering the musical 'machine' and the cognitive benefits of reading/translating the musical language is amazing," Swauger said. "Every instrument that has been donated will reach our students for many years. The possibilities for developing our students' enjoyment and passion for playing and performing for our community is the ultimate payback for the generosity of these donations."
"I'd like to send out my sincere thanks to those who donated to our instrument drive," said choir Director Nick Kloszewski. "With these donated instruments, our students will have opportunities that they may otherwise not have had. Our show choir at the high school, The Dynamics, has also benefitted from the drive, as a sound system capable of amplifying the group while on tour has been donated to the high school. Equipment like this proves invaluable to us, especially during the winter season when we do the most touring."
Aside from receiving instruments and equipment to benefit students, Benton said she met a lot of wonderful people that are true advocates for the students and music education.
"Thank you doesn't seem like enough," Benton said. "I wish the donors could have been present when the instruments were placed into the hands of the children who were on the waiting list to receive an instrument. It doesn't get much better."