Sandy Twp. water rate increasing in 2018, but taxes remain steady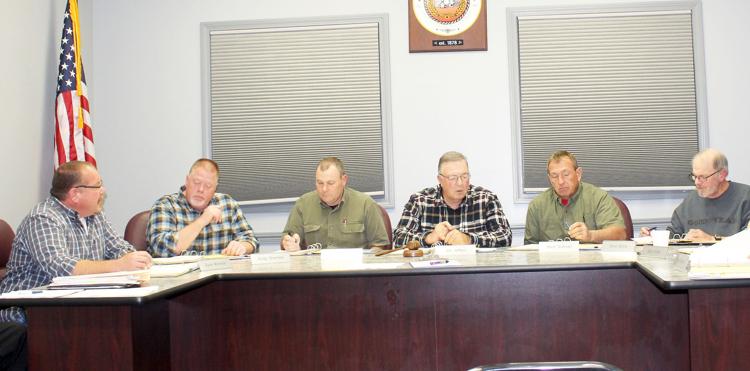 DuBOIS — The residents of Sandy Township will not see an increase in township taxes in 2018, however, residents will see an increase in their water rates.
Supervisors met first in their role as the Sandy Township Municipal Authority in the first of two special meetings Wednesday night.
The authority's meeting was called to approve a resolution amending the water service rates and to adopt the municipal authority budget. The new rate will be $16 per thousand gallons of water with a minimum charge of monthly use of 0 to 1,000 gallons. The current rate is $15.50 for the first 1,000 gallons and $11.50 for everything over the first 1,000 gallons.
The new rate will be effective Jan. 1. A customer using 4,000 gallons of water would pay $50 under the current rate but will now pay $64 under the new rate – $14 more.
The supervisors agreed that if the rate increase was not necessary it would not have been approved.
Supervisor Dave Sylvis noted that the increase was "not made because we wanted to" but was needed to "keep in line with what the city is charging us." In the Municipal Authority's budget the line item for payment for DuBois treatment is $1,600,000. It also noted that treatment for Sykesville is $33,000.
The authority also approved its sewer and water budgets. The sewer budget shows $2,988,750 in both revenues and expenses. It noted that the net deficit after other cash requirements is $116,298. The water budget shows $860,500 in both revenues and expenses but also noted the net deficit after other cash requirements is $8,755. Other cash requirements for the sewage budget included PennVEST loan payments of $372,669; PNC Bank loan, $144,704; and I&I construction financing, $325,000. The other cash requirements for the water budget includes total USDA loan payments of $177,548.
The supervisors adjourned the Municipal Authority meeting and immediately called the special meeting of the Sandy Township Board of Supervisors to order. At this meeting, they once again approved amending the water rates and adopted the 2018 general fund budget, including the state fund (liquid fuels fund). They also adopted the municiapal authority's 2018 water and sewer budget.
The township's General Fund budget shows revenues of $5,168,800 and expenditures of $5,136.650.
The numbers are broken down as follows:
Income: Local taxes, $1,750,000; Licenses and Permits, $142,400; Fines and Forfeits, $35,100; Interest and Rents, $10,000; Intergovernmental, $422,200; Charges for Services, $10,100; Public Safety, $333,000; Library (0.5 mills), $55,000; and Miscellaneous, $25,000. Plus assets and checking, $1 million. The intergovernmental category includes items such as federal grants, liquor licenses, Marcellus rebate, payments in lieu of taxes, county liquid fuels, etc.
Expenses: Elected officials, $134,250; Executive, $122,200; Auditors, $12,300; Tax Collection, $39,700; Legal Services, $65,000; Data processing, $12,500; Engineering, $50,000; Buildings, $48,600; Police, $1,014,700; Fire Department, $368,500; Crossing Guards, $300; Planning/Zoning, $68,000; Emergency Management, $3,900; Vector Control, $2,200; On-lot Sewage, $5,500; and Recycling, $700; Road Department, $1,301,200; Public Works/Other (airports/cemeteries/memorials), $8,500; Recreation, $25,000; Library, $55,000; Economic Development, $4,600; Insurance, $992,000; Benefits, $402,000 and General Government Capital Expend, $400,000.
The township will be saving $17,000 that it had previously paid under its contract with DuFAST bus service. Since ATA took over DuFAST, that cost is no longer a part of the budget.
In the State Liquid Fuels Fund the township will see $2,275,600 in income in the coming year. This includes $1,800,000 in checking. It has budgeted $1,585,000 for expenses, including $175,000 for capital equipment and $1 million for construction.
Supervisor Andy Shenkle noted that through his time on the board he has found that "we don't raise rates/taxes just because but only if we have to. We take our residents to heart."
Sylvis offered his thanks to the employees who put in long hours preparing the budget and also thanked Supervisor Darell Duttry for his time on the board. Supervisor Mark Sullivan also told Duttry that it had been a pleasure serving with him for six years. Shenkle echoed that sentiment.
The special meetings were the last meetings for Duttry. His place will be taken by Kevin Salandra, who was elected to a six-year term.