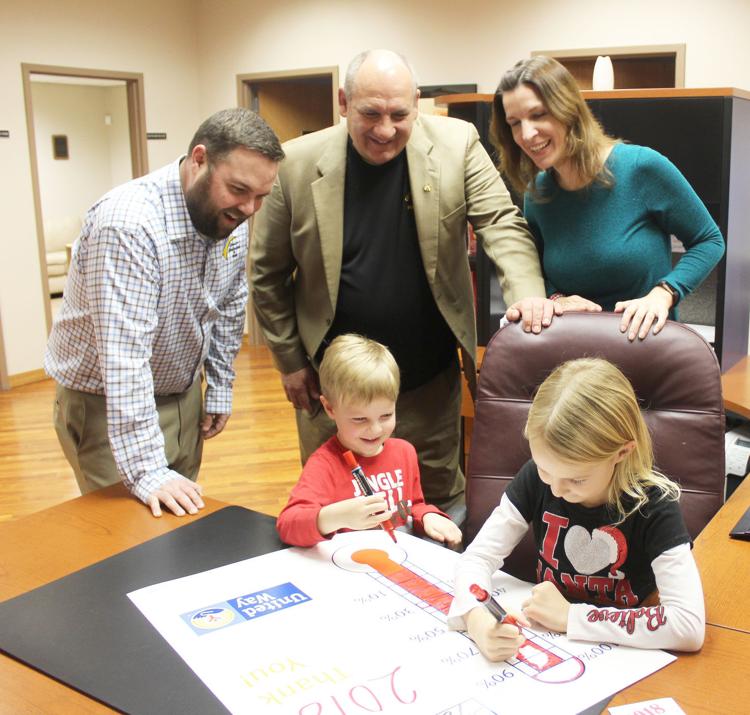 DuBOIS — The people of the DuBois Area have opened their wallets and hearts once again.
DuBois Area United Way Executive Director John "Herm" Suplizio and 2018 campaign co-chairpersons Dave Green and Emily Youngdahl announced Friday that the $420,000 goal has been reached.
"I'm so happy that the community pulled through and we made our goal this year," said Green. "There were a lot of people that came in and gave this year that hadn't given before. It made a big difference."
"There were a lot more people from the community," Youngdahl said. "Many of the businesses still donated again this year but there was a lot more involvement from the community and just individuals that helped out, too."
Both chairpersons expressed appreciation to everyone who helped the United Way achieve its goal.
"I'd like to thank Emily and Dave for taking time out of their busy schedules to chair this year's campaign, because without people stepping up to the plate and chairing the campaign, it really goes nowhere," said Suplizio. "It starts with the chairpeople. I know Dave's a business owner, and him taking time out of his time, and Emily, all of their time away from their families in supporting this endeavor is very special."
"And all the board members, we've got to thank all the board members and tell them that they did an excellent job, and they supported this campaign," Suplizio said.
Suplizio also thanked office staff members, Marla Minns and Bobbie Shaffer, who we couldn't do it without them,
"We couldn't do it without them. They are the backbone of the United Way," Suplizio said.
Suplizio acknowledged the community.
"Obviously, if we don't have the community support, we can't reach the campaign, which is hard," Suplizio said. "A goal of $420,000 for a small community like ours is tough to reach each and every year. The community deserves the thanks, the community deserves this Christmas present. That's what this is — a Christmas present to the community — thank you for stepping forth."
"There's so many people out there that we could thank, but this year, a really special thanks goes out to Jackie Anderson and Owens Brockway. They really stepped up, and Owens Brockway matched all the employees, and we get a nice substantial gift from Owens Brockway, from all their employees, and now their corporate is matching what the employees gave which is just fabulous, to say the least," Suplizio said.
Currently, there are 25 United Way member agencies.
They are: Agape Community Services, American Red Cross (PA Mountains), ARC –Recreation and Respite Club, Bucktail Council (Boy Scouts of America), Camp Confidence, Catholic Charities Counseling and Adoption Services, Children's Aid Society, Clearfield County Area Agency on Aging Inc., Clearfield County League on Social Services Inc., Clearfield Society for Handicapped and Disabled Citizens, Cultural Resources Inc. –Reitz Theatre, Dickinson Mental Health Center's –Autism Center, DuBois Area Fireman's Training, DuBois Area Honor Guard, DuBois Area YMCA, DuBois Ministerial Food Pantry, DuBois Public Library, Parkside Community Center, Girl Scouts Western Pennsylvania, Haven House, Mengle Memorial Library, Mid-State Literacy Council Inc., Passages Inc., The Salvation Army and Young People Who Care (Marian House).
United Way serves portions of Clearfield and Jefferson counties, including the City of DuBois, Falls Creek, Reynoldsville, Sykesville, Brockway and Troutville boroughs and Bloom, Brady, Huston, Sandy, Union, Winslow, Snyder, Washington and Polk townships.
The DuBois Area United Way was founded in 1956 by the late Paul G. Reitz, former DuBois mayor, founder of Riverside Markets and later chairman and chief executive officer of The Penn Traffic Company. The original agency was known as the DuBois United Fund. The first campaign goal was $73,900 and supported 14 member agencies.
More information on the United Way, including how to donate, is available by calling 371-5011.