Keeping the Dream Alive: DuBois Dream needs votes to compete in 2019 The Basketball Tournament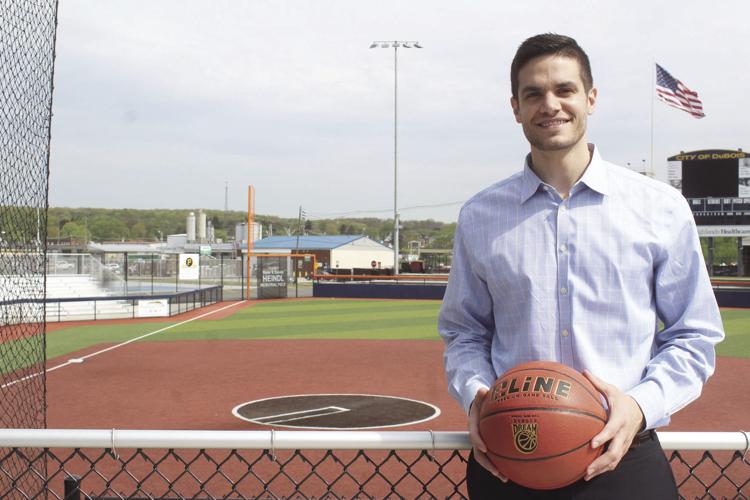 DuBOIS — Since it's inception and inaugural run in the 2016 ESPN affiliated The Basketball Tournament, Albert Varacallo III and the DuBois Dream have been dreaming big. This year is no different as Varacallo and the DuBois Dream have even bigger dreams to help out the community while playing on a national stage in the 2019 The Basketball Tournament.
"This year, like every other year, we are playing for my dad's foundation, The Dr. Albert Varacallo Foundation," Varacallo said. "We still continue to play in his honor and in his memory and it is always that much more special to help spread the word about my dad on a national stage knowing how much he tried to give his all and help the community."
Dr. Albert Varacallo was a prominent and well-loved family practice physician from DuBois, says www.docvfoundation.com, the website dedicated to The Dr. Albert Varacallo Foundation and his Memorial Event and Annual Bike Race.
It states, "He was known for his selfless work and spirit of giving to his fellow man. Dr. Varacallo had a passion for his big family, golden retrievers, his patients, and cycling. On the morning of July 8, 2010, he was out riding his bicycle before work, when he was hit head-on by a car."
After his tragic accident and death in 2010, the Varacallo family really wanted to turn that negative into a positive by giving back to the community since he loved the area so much and loved helping people out.
Dr. Varacallo's family and friends created the Dr. Albert Varacallo Memorial Event, which helps fund high school and medical school scholarships as well as help families who have gone through sudden tragedies like their own.
The second cause the DuBois Dream will be playing for in The Basketball Tournament is something near and dear to Varacallo's heart – a special needs/sensory gym and event center in DuBois.
In 2016 and 2017, the DuBois Dream entered The Basketball Tournament and played for the Challenger League field, a project spearheaded by the City of DuBois to provide specialized athletic opportunities for those with special physical and mental needs. Today, the new state-of-the-art Rose and Dennis Heindl Memorial Field is primarily for use by the Challenger League but is also a multi-use field for girls softball.
"Now seeing it built and how amazing it is, I want to take it up a notch and provide something like that indoors for our community," Varacallo said. "I have been talking about trying to bring a sports complex or event center to the area for quite some time now, but I do not think I was dreaming big enough. I think if we can tie in an event center with a sensory gym and make it all handicapped-accessible and all-inclusive I think that benefits our community so much more."
After teaming up with The Arc of Jefferson and Clearfield Counties and partnering and attending the Special Olympics, practicing with the DuBois/Jefferson Special Olympics Basketball Team, making guest appearances at Camp Confidence, and being on the DuBois Area School Board and seeing the direction the school district is heading, Varacallo said he believes it is important to get something like this in place.
"I love attending and cheering on my friends in their Challenger League games," he said. "I think it would be amazing to have something that mirrors the Challenger League indoors that incorporates indoor sports during the rough winter months, especially basketball. I just think it would be a win for everyone and take this Tri-County Area and our school district to new levels."
Varacallo said the DuBois Dream will also be playing for and helping to spread the word about a new non-profit in the community called Square One Community, which is being led by Michael Clement, of DuBois.
Seeing a need to create the connections to help all go from surviving to thriving, Square One Community is a collective of people passionately committed to connecting others with the resources needed to get a fresh start.
"Their motto and what they are about, taking people from 'surviving to thriving' is definitely a way to dream big in our community," Varacallo said.
The Basketball Tournament" is a 5-on-5, single elimination basketball tournament worth a grand prize of $2 million, with a total of 64 teams entering the tournament.
Before the DuBois Dream team has a chance to compete in the tournament, it needs votes.
"To get in to The Basketball Tournament and play on a national stage on ESPN, we are going to need as much support from the community as possible," he said.
To vote for the DuBois Dream and help them enter TBT, fans need to go to www.thetournament.com/teams/dubois-dream.
"It takes about a minute to sign up and support and it is free to vote so I hope everyone can support our team and causes," he said.
Although the winner of TBT receives $2 million, this year the tournament is also awarding the winner of the regional rounds (three games) a portion of the ticket sales from the regional rounds and in some regions that total could be more than $50,000.
"We continue to improve each year on and off the court and I cannot thank the community enough for all of their support because this Dream would not be possible without them," Varacallo said. "I feel so lucky to be a part of this community and I am going to continue to do everything I can to help it in any way that I can. God is so good and continues to bless me and the team and I know with continued hard work and faith all things are possible including all of our big dreams."