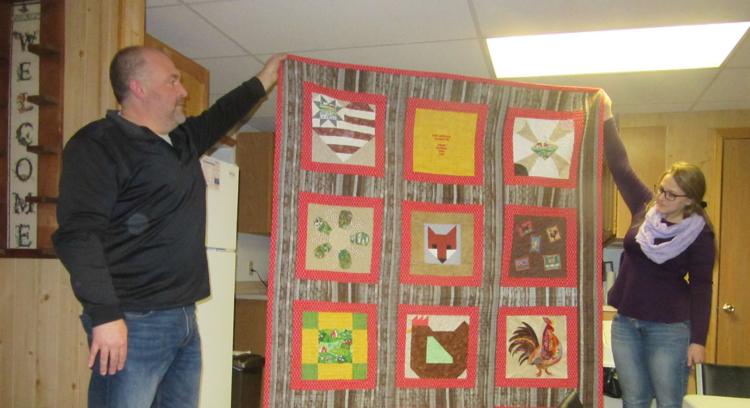 BROOKVILLE — Once again the NICU at Penn Highlands DuBois is benefitting from donations made by visitors to the last year's Jefferson County Fair.
Money deposited as votes in the Beautiful Baby photo contest was given to the NICU. A total of $2,174.85 was donated and will be used to buy billiblankets, used to treat neonatal jaundice, and a new isolette.
"They were very grateful for the donation," board member Toni Facchine said. The baby contest will be held again during this year's fair, with Lorie Park as chairman. More details will be announced as plans are finalized.
Quilt block competition
Also planned for this year's fair is the quilt block competition. Quilt block squares entered in last year's fair have been made into a quilt by Susan Alexander, who then had the quilt professionally quilted. A matching bag for the quilt was also created with a quilt block. The set will be one of the fundraisers at this year's Spring Fling, to be held Saturday, May 4, at the fairgrounds. Tickets are now available at $20 per couple from any fair board member.
Petting zoo
A new attraction at this year's fair will be a petting zoo provided by the Bar C Ranch. "They will set up a petting zoo and will also have an area where you can go inside and feed some parakeets," fair board president Wayne Jackson said. "She assured me that the animals they have, even though it is a petting zoo, are from other countries, so they are not going to look like the animals we have here."
Contracts
Jim Grant reported that his committee has mailed out "about 60 vendor contracts to last year's vendors and some new ones who have shown interest." He already has received commitments from 16 food vendors and a few non-food vendors.
The authority also approved a contract with Full Pull Productions for the truck and tractor pulls to be held Monday, July 15, and Tuesday, July 16, as the grandstand shows at the fair. Monday night's show will be reduced by two classes; details to be announced later.
The board also approved a contract with Full Pull Productions for the truck and tractor pull to be held Saturday, June 15.
Bird pens
Amanda Kanouff and Matt Snyder, representing Jefferson County's 4-Hers reported that they are looking at panels to build new bird pens before this year's fair. "I was talking to a couple of leaders this week and we are going to have a huge amount of kids bringing birds," Kanouff said. "We might need to increase the number of pens we are looking at."
Grandstand cleaning
The board discussed the much-needed professional cleaning of the grandstand. Bids have been submitted by three contractors. The executive committee will meet with the contractors later this month to review the proposals and select a contractor, as the authority wants the project completed before fairground activities begin in mid-May.
4-H Livestock Field Day
Kanouff reported briefly on the 4-H livestock field day held recently at the fairgrounds. "We had over 50 people attending. We had workshops in swine, beef, sheep and goat, rabbits, manure management and more. The kids really seemed to enjoy it. We had families come from Greene County, Erie County and all the way over from Lycoming County."
State convention
The board approved payment of $579.40 in expenses for the queen committee members who attended the state fair convention in January to support co-queen Danielle VanSteenberg. The money had been raised last year in fundraisers held by the committee. "They raised almost $2,000, so they more than covered their expenses," Jackson said. Facchine said "that it is an expensive endeavor, but we would like to continue it as long as we have young ladies that want to participate."
August Demolition Derby
Facchine also reported on the demolition derby to be held early in August. "Things are really hopping," she said. "As of today (March 6), there were 67 cars registered and paid. They are coming from all over; we got one from Canada the other day. I think it's going to be a really big show."
Upcoming meetings
The next meeting of the finance committee will be held Wednesday, March 27, and the next regular meeting of the Jefferson County Fair Authority will be held at 7 p.m. Wednesday, April 3, in the conference room of the Conservation Center.